This post is in collaboration with artist Nikhil Kandru.
Whatever you do, if you do it a lot, you will improve!
Drawing is an art which demands practice. The more consistent you are, the more you will learn. Here are some actionable plans to draw consistently for beginners.
1. Get yourself a little sketchbook.
Go out and get yourself a little sketchbook. It does not necessarily have to be a fancy one. If you don't feel like buying one you can make it for yourself using printing papers. Remember you will also need something to draw with. Get yourself a set of pencils. There are range of pencils available. (Click here to buy the kit I am currently using). Though you can also start normal medium-hard graphite HB pencil.
2. Commit to a Daily Drawing Challenge or how to draw challenges.
A lot of artists stay active and draw daily only when it's Inktober. It does not have to be Inktober to draw consistently. Take up any daily drawing challenge and be regular.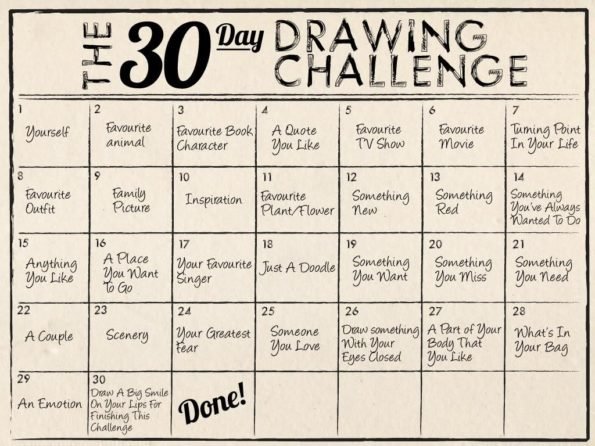 3. Make a List of Stuff to Draw.
You sit down to draw or doodle. A blank sheet of paper stares back up at you. Your pencil feels heavy. You start sweating and your vision gets all wiggly. You don't know what to draw. Don't panic. It happens to everyone!
The easy way to tackle this problem is to make a list of stuff that you will be drawing in the next 30 days. The list can be used to challenge and inspire you to draw more. (Comment you email id in the comment section below and get a list of "100 stuff to draw" to inspire and help you with your drawing habit.)
4. Pick a Theme.
Picking a theme is a great way to practice something you are not good at. Challenge yourself with different themes.
Themes of my past three months.
1. Human figures
2. Drawings of nature
3. Village and villagers
This month I am challenging myself to draw sea creatures.
You can draw more, you can draw better. Just open your sketchbook and draw. Stay tuned for a step by step guide for beginners.
Also do drop links of your art blog. I would really like to visit them. 🙂