Fangirl is a young adult contemporary story about self-discovery, growing-up, building friendships and romance. From social acceptance issues of high school to jumble of conflicting emotions that signal the new world of college, Fangirl by Rainbow Rowell gives all the feels.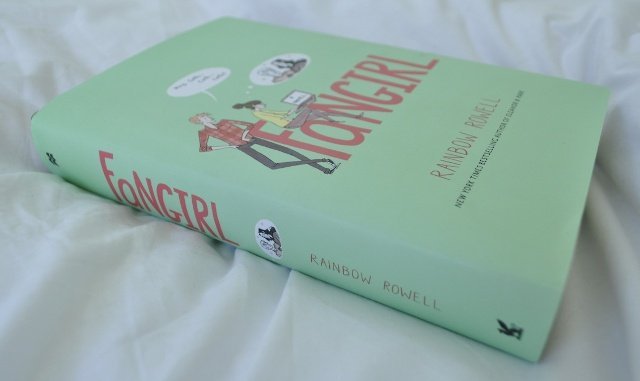 The story is about twin sisters, Cath and Wren, who have grown up without a mom and with a very busy dad. Cath, the protagonist is a fan-fiction writer who admires and loves her sister. Their life together is all rainbows and roses until they unwillingly have to come out of their comfort zone and live separately during their first year of college.
PROS :
1. The novel includes wide-range of well developed characters.
2. Cath, the protagonist is an introvert with anxiety disorder. Yes it is a pro for my kind of teenagers. :p
3. The protagonist stands up to the idea of 'Age doesn't define maturity'.
4. And then there is Cath's fan-fiction.
CONS :
1. It was a bit difficult to switch back and forth between the story and Cath's fan-fiction.
2. The ending of the novel is quite sudden.
Favorite quotes :
Smiling is confusing, she thought. This is why I don't do it.

Happily ever after, or even just together ever after is not cheesy. It's the noblest, like the most courageous thing two people can shoot for.
Though due to the busy schedule it was a procrastinated read yet every time I picked it I felt relaxed and connected. Trust me, Fangirl is a must read for every introvert.
Have you read this book? If not BUY NOW Fangirl


What was the last book you read?