Title: IKIGAI : the Japanese secret of long and happy life.
Published by: Random House UK
Genre: Nonfiction, Self-help
Pages: 208
IKIGAI BOOK REVIEW :
Cheers to the first audiobook that I laid my hands on amid the covid lockdown.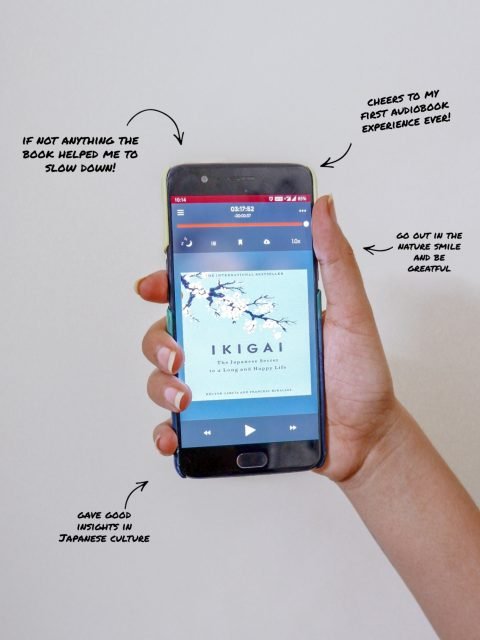 Before this I sort of didn't have good relations with audiobooks and even a thought of picking one was a big no for me. Amidst lockdown I could not get my hands on paperbacks so I began to spend more time with e-books and that's when I stumbled upon Storytel and its audiobook collection. (note – this is not a sponsored ad.)
How was the experience of listening to an audiobook as a whole?
-Usually non-fictions never grab me the way fictions do. So I take more time to complete a non-fiction than to wind up a fiction. Audiobook somehow made non-fiction interesting for me, interesting enough that for the first time ever I completed a non-fiction in just two days. A big achievement you see.
-I am pretty addictive to ted podcasts and listening to this audiobook was somewhat similar.
-The good thing is you can adjust time in audiobooks and keep it at your pace. Though I didn't rush and listened to it 1.0x speed, but if you are comfortable you can increase the speed and set your own pace.
IKIGAI – What the book is about?
"Ikigai can be described as an intersection between 4 different elements: what you're passionate about, where your skills lie, how you can earn a living and what the world needs."
The book was written by Héctor García – who has been living in Japan for over a decade, and Francesc Miralles – a Spanish writer. When they both met each other in Japan they started talking about trends in Western psychology. That's when they started talking about a similar Japanese concept – IKIGAI. Something that can be translated as 'the happiness of always being busy.' And that's what gave birth to this book.
Concept explained in the book in detail –
1. IKIGAI
The author tells us that in Japanese language there is barely any word for the English phrase "Retire from work". The concept of Ikigai is to find a purpose for life, a purpose that is more than a passion and a profession. If you find your Ikigai you will never have to "retire from work" because there is no such phase.
2. Positive Mindset
The author directs attention towards positive mindset and a stress-free lifestyle. Infact the book encourages healthy friendships and elimination of toxic people from life. And to this i say – PUSH TOXIC PEOPLE AWAY BEFORE THEY DESTROY YOU COMPLETELY!
While talking about positive mindset the author shares some old but bold peoples' interview about their secret of longevity. The next two chapters comprise of advises from longest living people. This was my favorite part of this audiobook.
3. Flow
As described in the book "Flow" is a state when one gets completely engrossed in doing something and the experience in itself is so exciting that one can't stop but do it for the sheer sake of doing it.
The authors tells that the secret to a happy life is spending more time in your state of flow.
The pros of picking this book.
You will get to know a lot about Japanese culture. From food habits to daily routine the book gives a good insight in Japanese culture.
The book will motivate you enough to get out of bed early and start working on your purpose for life without actually providing you a daily routine. Most self-help books talk a lot about the way one should live a life or get success or work passionately but Ikigai won't. The book will only tell you the lifestyle and Japanese concepts that make people healthy and happy, making it less commanding.
The book will motivate you to do small but needful lifestyle changes like drinking green-tea instead of sipping on your regular chai.
In case you are going through stressful days pick this book. It will certainly help you.
Cons –
Even though Ikigai is the kind of book that I won't hesitate recommending someone yet I will definitely say that the book as a whole doesn't offer what is expected of it. At first I thought the book will revolve more around how to find a purpose or the ikigai of life but somehow that's not how it turned out to be.
There are few pages that talk about yoga and other exercises in detail. Even at one point the book explain a step-by-step process of doing some yoga postures. Then some chapters talk in detail about what a healthy Japanese diet includes. These are few chapters that diverted the theme of book a bit.


Why do I still recommend IKIGAI?
Even though you perhaps won't find details of what you expect yet the book will be a good read. I felt that perhaps the purpose of life really is to spend it with good health and a happy heart.

The book would not push you to work your heart out but to find your ikigai and then spend your life with it. For it is only your ikigai that can make your work-life stress free. You see, money is a human invention; we were not created to just make money. We were created to be happy, to serve, to make the world a better place.
Two Quotes I can't resist but share –
"Our ikigai is different for all of us, but one thing we have in common is that we are all searching for meaning."
"In japanese culture, there's a belief that only imperfect objects, like a cracked teacup, can truly be beautiful."
Click here for more book reviews
Currently Reading : It's not about the burqa by Mariam Khan.