With the 2019 on the verge to end here is a photowalk 2019 ~ Lets dive in twenty nineteen –
This is going to be a reflective exercise. And even though I know that photos can converse I won't stay calm but keep telling about the story behind each. 😀
Hey, the structure of this post may look very simple but I tell you, it's not. Choosing one picture that will describe your month highlight is not an easy task, specifically when you are a curious kid. I kept on going through my gallery n number of times to pick these 12 pictures, but I know that this will very significantly define the 12 months of my 2019.
Photowalk 2019!
January 2019,
The year began with a trip to Himachal Pradesh. You might be thinking I have had so many trips to Himachal and have explored the state enough, but let me tell you the state has a lot to offer. With so many remote villages to explore I have so many reasons to keep visiting the state.
So on January 2019 I explored Rasol village. The trek was not lengthy but so much fun. This was the first time I walked on slush with sneakers. Oopsy i forgot to carry boots!
I remember every slip and every mini heart attack I had. 😀
The village was so beautiful, it has my heart.
February 2019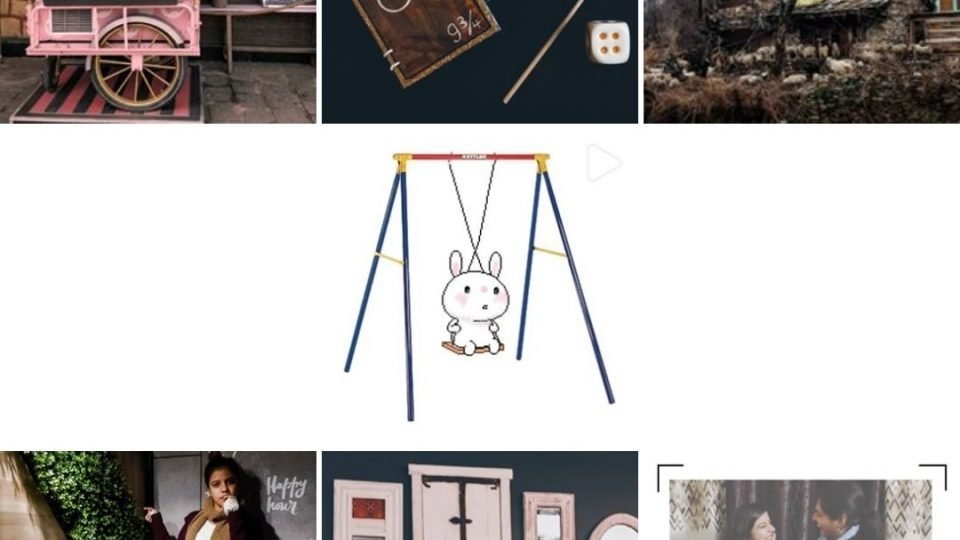 I posted this on my Instagram grid and started with Instagram blogging as well. By now my website was doing good enough so I decided to involve my social media accounts in the game. I wanted more traffic and I can't deny that Instagram really helped me in growing. Also in the same month I made a Pinterest account and one my Pins got 16,000 views and 154 saves. That was an achievement for I just made an account and did only few pins till then.
March 2019
It was March and my graduation was about to end. Unlike some of my classmates, I had a plan in hand. I was holding it well until the time came really close. Suddenly I started feeling clueless. In the same month I did a small family trip to escape the chaos. Yet I knew it would be a tough month to go through, I am glad I made it to 2020. The same month I also had a make-up shoot with a London based makeup artist. And this picture right here is a behind the scenes shot of the same. I chose this picture to define my March 2019 because the month was otherwise nothing but thoughts and chaos.
April 2019
April has always been my favorite month because its NaPoWriMo ~ National Poetry Writing Month. I spent it writing and reading poetry.
Click here to read one of favorite poem from 30 days 30 poems collection.
The picture here is from my College farewell. I officially received a farewell from college with a tag "The Treasured Talent". Since my college days were okayish, I was not crying but I was indeed sad.
Nobody wants graduation years to end! You might skip classes a lot but you never want the phase to end.
May 2019
I spent the month designing diary covers. For those of you who don't know it I sometime I come up with a sale of my art products. It all began after I uploaded a story of the diary I designed for my sister, and then came orders, more orders and a new trip 😀
June-July 2019
The two months were twin of my 2019. I stayed home resting and reading. It was a much needed life break. Some days I did big things and conquered the universe other days I was really proud of making a spectacular cheese sandwich and not killing myself but either way it was all good. :')
August 2019
I shifted to a cozy apartment and started working as a Freelance writer. The month was smooth either I was writing for others or for my website. Things were well and I was saving funds for an upcoming trip.
Meanwhile I also wrote articles for a Spanish website (in English) about Spanish slangs and festival of Spain and quench my thirst for a third language. I also started reading more Hindi books, but have barely completed any yet!
Sepetember 2019
The month had a lot of lows. My Dad got sick and was admitted to the hospital. The month taught me the value of expressing emotions. I remember when once I went to meet Dad in ICU I uttered "I love you" to him for the first time in my 20 years. I learnt how important it is to spend time with parents and be expressive with them.
Dad's Health Update – He is fit now and has even re-joined his office.
October 2019
It was Diwali month!
All the family members were home including my NRI brother.
I WORE SAREE! It was the second time this year when I wore a saree. Now I have developed a special love for the attire and I am looking forward for more such occassions when I can actually buy and wear sarees.
Also I got Fujifilm XT100 as a birthday gift.
Couldn't have a more happy October then this! :')
November 2019
Birthday month!!!
Birthday trip :')
I TURNED 21!
I planned to celebrate my birthday in a remote village in Himachal. So I did a trip to Kutla to celebrate it. Amidst the smell of fallen pine-needles, cow-dung smoke, fresh green grass, the pure cold water of mountain streams, and the depth and blueness of the sky I felt so overwhelmed.
Also a big Thanks to friends who accompanied me and made the celebration grand.
November 2019 was a blessing.
December 2019
I am rushing into 2020 snuggling in bed with books sipping masala chai time to time.
Photowalk 2019 ends!
AND
The New Year Countdown Begins
After saving the draft, when I proofread this post I felt good. As a whole the year treated me pretty well.
Waiting to know the insights of your 2019 in the comment section.
With Love,
Photowalk 2019,
Ankita.