//Adventure starts where the road ends.//
24 June 2018,
Trek to Grahan Village Himachal.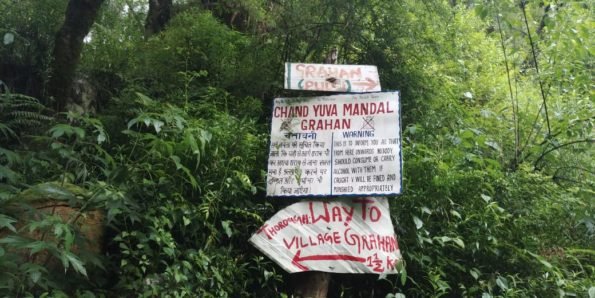 We reached Himachal on 23rd of June, stayed at Chalal for one night and left for Grahan at 12:30 in the afternoon. The aim was to reach the destination before it gets dark.
We were a group of three people.
For first two hours the trek seemed easy. On our way we befriended a localite boy. He accompanied us to his café which was at the midway of the track. The boy was pretty friendly and told us stories about Grahan and the ban of alcohol in the village. He even helped one of our team member cross the river because she was afraid to walk on the bridge that connected both sides of the land.
.
Then it started raining heavily and so we decided to stay under a shed. We stood there for 40 minutes. The rain seemed unstoppable so we decided to start trekking again. After one hour of getting drenched in the rain we took another halt at a café and had Maggie and omelettes.
.
We begin trekking again. Then came two perpendicular ways, one was towards Grahan village, the other was towards Grahan (Pulgi). We had no clue of the right path, so we decided to wait for someone to lead us. After 8 minutes of wait, an Israeli came and suggested us to take the route that says Grahan (Pulgi). With no second thought we started walking again.
.
The trek was getting steeper with every turn. There was complete darkness now. No lights. No camps or village huts could be seen. Though we could still see the signs that helped us stay sane. All three of us were now completely tired and anxious because of the darkness. But we kept walking. After a while we took the wrong turn. The track became as narrow as possible. We could barely walk or see anyone around us. We kept walking, searching for signs but could not find any. There was no track, it was missing. I took support of a rock and stood there holding it. The only thing I could think at that moment was that if I let go of it I would go straight down thousand feet. In such situation you just have a fraction of seconds to decide and act. I almost gave up, tears rolled down my eyes, and I tried framing my mind to think what I could do if the situation gets worse. Then one of our group members saved me from falling. He by now had already slipped twice, one of which would have been disastrous.
.
After finding no signs, no track, no lights, and nothing except trees everywhere we decided to walk back the same narrow track to find out the right turn or a suitable place to stay and spend a night. Even though walking back from that narrow track was something dangerous bu it was indeed thrilling. The fear of falling and disappearing forever was also kind of occupying our minds. It took us 30 minutes to come back to the turn from where we went wrong. And then we saw the broken fencing which we crossed because of the darkness, obviously we had our flash light with us to help us trek but we missed the  fencing and crossed it to walk into the forest with no track. God knows how all three of us crossed the broken fencing without noticing it!
.
After a while we could see a bulb. The light gave us some mental strength back, which was pretty much needed to trek further and reach the destination. Only some amount of thrill is good. 😀  After another 20 minutes of struggle we reached our destination. That was it. That was our moment. We hugged. We cried. We laughed. We made fun of each other.
.
All my life, till now, there were times when I was extremely sad or depressed and all I could think of was death. I thought death is somewhat relaxing. But after experiencing death to the closest I realized I actually love my life a lot and I cannot afford to lose it when there is so much to live for.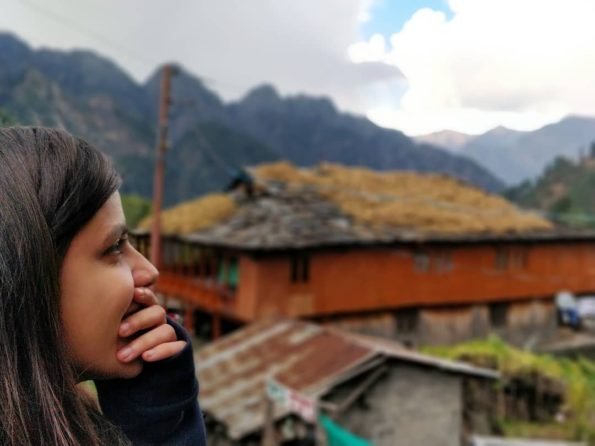 This trip indeed changed my life and gave me a thrilling travel story. And that's what I look forward to when I travel – Adventure!